#{title}#{text}
#{title}#{text}
#{title}#{text}
#{title}#{text}
#{title}#{text}
0
added to delivery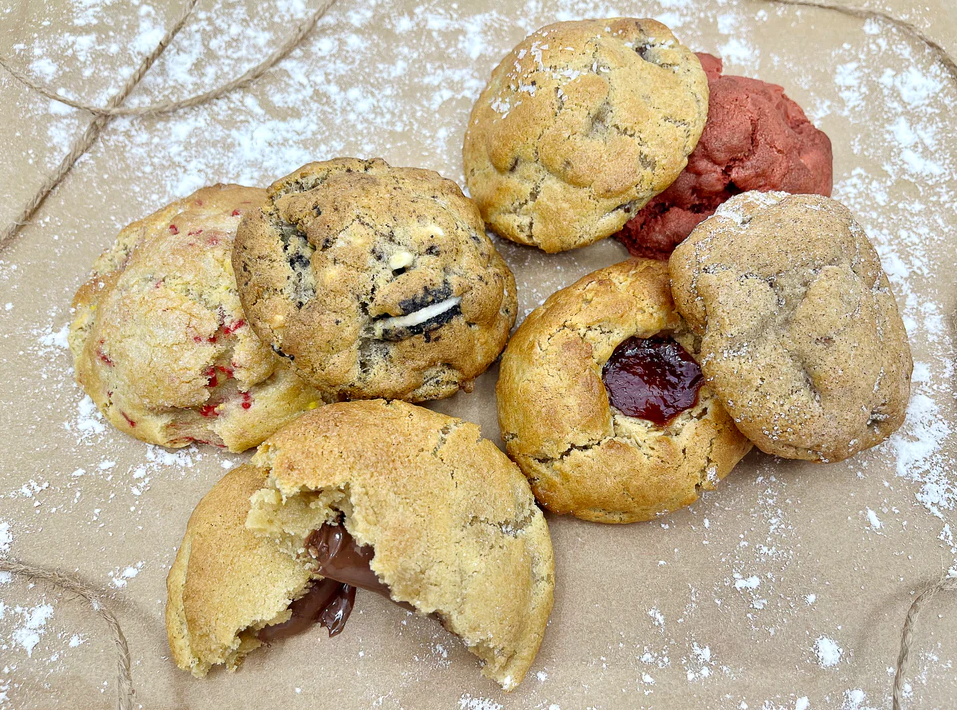 Brady's Bakery Variety Cookie Box (Dozen)
$44.00 $42.00 1st time price!
12 pack
Looking for some delicious cookies to indulge in? Choose to enjoy a half dozen or go for the entire twelve from Brady's Bakery! Every batch of their yummy morsels is made from an original recipe and baked fresh with an incredible taste that will leave you speechless. Of course, you don't have to share...but this variety pack of freshly baked wonders is a crowd-pleaser sure to knock everyone's socks off! Established in 2015 by the skilled Reece Scelfo in Los Angeles, Brady's Bakery is a prominent LGBTQ+ led business that has swiftly become a preferred destination for dessert enthusiasts. Each yummy morsel is a testament to Reece's creativity and love for sweets.

Brady's mouthwatering goodies are characterized by fun and unique flavors proudly handcrafted in small batches using locally sourced ingredients while steering clear of artificial additives. Try a batch for yourself and indulge in something extraordinary!

What's Inside Brady's Bakery Box?
The Cookies 'n Cream Cookie
The Sea Salt Chocolate Chip Cookie
The OMFG Cookie
The PB & J Cookie
The WC + OC Cookie
The Basic Grinch (Holiday special)

Brady's Bakery
Chocolate Chip + Sea Salt cookie:

unbleached enriched hard wheat flour, organic cane sugar, brown sugar, unsalted butter, unsalted margarine, eggs, semi sweet chocolate chips, 60% dark chocolate chips, kosher salt, organic cinnamon, corn starch, vanilla extract, baking soda, baking powder, sea salt.

Cookies N Cream cookie:

unbleached enriched hard wheat flour, organic cane sugar, brown sugar, unsalted butter, unsalted margarine, eggs, white chocolate chips, oreos, kosher salt, corn starch, vanilla extract, baking soda, baking powder.

OMFG cookie:

unbleached enriched hard wheat flour, organic cane sugar, brown sugar, unsalted butter, unsalted margarine, eggs, nutella (sugar, palm oil, hazelnuts, skim milk, cocoa), kosher salt, corn starch, vanilla extract, baking soda, baking powder.

PB&J cookie:

gluten free flour (white rice flour, whole grain brown rice flour, potato starch, tapioca flour), organic cane sugar, brown sugar, unsalted margarine, gluten free rolled oats, peanut butter (roasted peanuts, palm oil, salt), unsweetened apple sauce, organic strawberry jelly, salt, corn starch, baking soda, baking powder, xanthan gum.

Cornbread Cookie:

unbleached enriched hard wheat flour, yellow cornmeal, organic cane sugar, brown sugar, unsalted butter, unsalted margarine, eggs, organic honey, kosher salt, organic cinnamon, corn starch, vanilla extract, butter extract, baking soda, baking powder.

WC + OC Cookie:

unbleached enriched hard wheat our, granulated cane sugar, brown sugar, unsalted butter, unsalted margarine (palm oil, water, soybean oil),
eggs, white chocolate chips, dried cranberries, orange extract, kosher salt, corn starch, baking soda, baking powder, powder sugar (granulated sugar, corn starch).

All cookies may contain traces of: wheat, dairy, eggs, soy, nuts

Customers also added these items